club head speed
Man, you gotta see Mu hit his 3 wood over 300 yards with incredible club speed and ball speed; JUST AMAZING!! We show you how to stop topping it, get natural width for more effortless speed so you can crush your efficiency and smash factor for some awesome Personal Bests with it! STOP TOPPING YOUR FAIRWAY WOODS! Golf Tips • Golf Instruction • Golf Lessons • With Shawn Clement ☞Wisdom In Golf | Premium Website |
00:00 Shawn introduces the golf lesson w/ Mu
00:57 How you should set up with the fairway wood
02:38 Confirming the setup with a few golf shots
03:38 How to determine where the fairway wood bottoms out in your golf swing
08:20 The visual that will help strike your fairway woods consistently
10:38 Golf tip: drag the fairway wood along the ground into the backswing
13:31 Shawn concludes the golf lesson
Proud Fitting Board Member of Callaway Golf Canada – Callaway Golf
Proud Partner of The Royal Bank of Canada – The Royal Bank
Proud Partner and Contributor of Golf WRX – Golf WRX
Golf Academy with Shawn Clement ☞Golf Academy with Shawn Clement
Callaway apparel – Use Promo code SHAWN15 – Callaway Apparel 👕 🔥
Truelinkswear golf shoes – Uses Promo Code TRUEWISDOM – Truelinkswear 👟🏌🏼‍♀️
With our great collaboration with Golf Fit Pro, we want to share with you the wisdom that Nick Randall possesses as one of the greatest Strength and Conditioning Coaches in the golf Industry. Go to Golf Fit Pro and be sure to use promo code WIG10 💪😃
Shawn Clement Director of Development at The Royal Quebec Golf Club / Shawn Clement Directeur du au Club de Golf Royal Québec: The Royal Quebec Golf Club
Follow me at: ☞ Instagram
                          ☞ Facebook
                           ☞ Twitter
Big Thanks to Simon Moore and Thomas Gresen for letting us use their music in our videos, go give them a listen at
Fore more great videos like this click here
#bettergolf #improvegolfswing #teamcallaway #golfbag #onlinegolflesson #golfcourses #golfcoursesnearme #propergolflesson #lpga #pgatour #pga #golfchannel #golfacademy #golfballs #kyleberkshire #clubheadspeed #ballspeed #golfsimulator #golflaunchmonitor #iwearcallaway #golflifestyle #backswing #downswing #toppinggolfball #fairwaywoods #golfslice
DROP THE MIC ON HOW THE WRISTS SHOULD LOAD AND BE POSITIONED FOR COMPRESSIVE POWER, ACCURACY, AND LONGEVITY!! Come on, stop finagling your wrists into knots trying to square the clubface and stop slicing. THERE IS A WAY BETTER WAY!!
Golf Tips • Golf Instruction • Golf Lessons • With Shawn Clement ☞https://www.wisdomingolf.com | https://wisdomingolfpremium.com |
00:00 Shawn introduces the Golf Lesson w/ Mu
01:05 Power backhand with a tennis racquet & baseball swing analogy w/ Mu
03:14 Hammering a nail analogy /w Mu
05:14 Which golf grip helps you stay anatomically sound towards the target
12:34 Mu demonstrates some shots from the lesson
14:24 Shawn concludes the golf lesson with Mu
Proud Fitting Board Member of Callaway Golf Canada – https://www.callawaygolf.ca
Proud Partner of The Royal Bank of Canada – https://www.rbc.com
Proud Partner and Contributor of Golf WRX – https://www.golfwrx.com
Callaway apparel – Use Promo code SHAWN15 – https://www.callawayapparel.com ???? ????
Shawn Clement Director of Development at The Royal Quebec Golf Club / Shawn Clement Directeur du au Club de Golf Royal Québec: https://secure.gggolf.ca/royalquebec/…
Follow me at: ☞ https://www.instagram.com/wisdomingolf/
                          ☞ http://www.facebook.com/wisdomingolf
                          ☞ http://www.twitter.com/shawnclement
Big Thanks to Simon Moore and Thomas Gresen for letting us use their music in our videos, go give them a listen at https://www.soundcloud.com/user-73416670
https://www.soundcloud.com/thomasgresen
For more awesome tips such as this now click here
Have you been wondering about how to release the body or how to release the club or hands, this is the video for you! When you consider that we do this kind or releasing in all sports such as Ping Pong, Baseball, Tennis serving, football throwing and so much more, you will be very happy to see that plugging that release that you already know into your golf swing will be way easier than you think because you have been there already!
Golf Tips • Golf Instruction • Golf Lesson | Join us on Premium ☞ Premium Page​ | Homepage ☞ Home Page​ |
GO CHECK OUT EDOUARD'S NEW ENGLISH YOUTUBE CHANNEL CALLED 'WISDOM IN GOLF LEGACY': Wisdom in Golf Legacy Youtube Channel ​
00:00​ Shawn Clement introduces the lesson w/ Sav & Mu
01:50​ Shawn Clement how to release the club in the golf swing
05:45​ Shawn Clement how to grip the golf club or the driver
07:53​ Shawn Clement hits an Apex 21 7-iron on the GCQ
08:45​ Shawn Clement hits the Epic Speed Driver on the GCQ
10:33​ How to release the driver w/ Sav (tennis racquet analogy)
14:02​ Mu hitting the driver
15:27​ Shawn Clement concludes the lesson
Check out Wisdom in Golf Legacy's latest! Wisdom in Golf Legacy: Fred Couples Effortless Power
Proud Partner of The Royal Bank of Canada: RBC​
Proud Partner and Fitter of Callaway Golf: Callaway Golf Fitting​
Proud Partner and Contributor of GolfWRX: Golf WRX​
Shawn Clement Head Director of Development at The Royal Quebec Golf Club/ Shawn Clement Directeur Général du Développement Au Club de Golf Royal Québec: Royal Quebec Golf Club
For more gold lessons, go here for more great wisdom.
Hi everyone!
One aspect of golf that gets most critical analysis is a golfer's posture and I have felt the scrutiny in way or the other. In this weeks exercise I wanted to focus on the neck muscles and structure. Moreover, the neck is part of the body tends to get neglected is one's ability to ensure their neck is stable and strong in the golf swing or at set-up over the golf ball.
In addition, today I wanted to share with you a great exercise taught to me from Golf Fit Pro (Nick Randall) and how you can save your neck from getting left out from golf fitness. The muscles responsible for holding your neck and head in good posture are deep in the front of the neck and strengthening them can be tricky.
Benefits:
The combination of a forward head position and a tight / weak neck presents a twofold issue for rotation in the backswing. Firstly, the head hanging forward and low inhibits our ability to rotate through our upper back because our spine is being pulled out of the neutral position from where is rotates most efficiently. Secondly, the tight muscles around the neck reduce the ability to rotate in our upper spine, often leading to unwanted head movement away from the ball in the backswing.
How its performed:
Placing a piece of light resistance tubing (or the Gravity Cap) over the crown of your head, aim to push up against the tubing, drawing your spine out of your pelvis and standing stall. Retract your chin and feel the deep muscles in the front of your neck working. Hold for 30 seconds, rest for 10 seconds and repeat.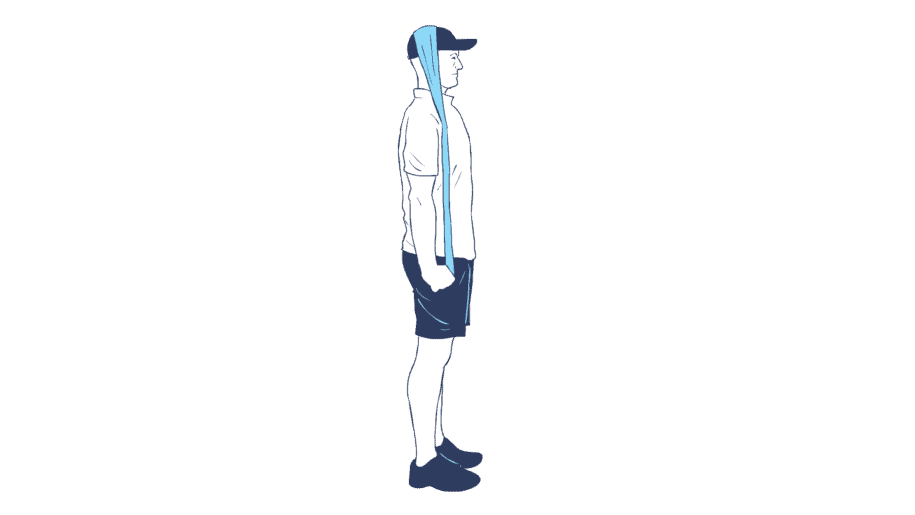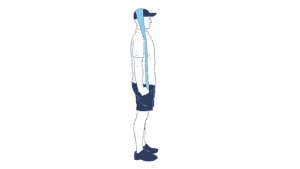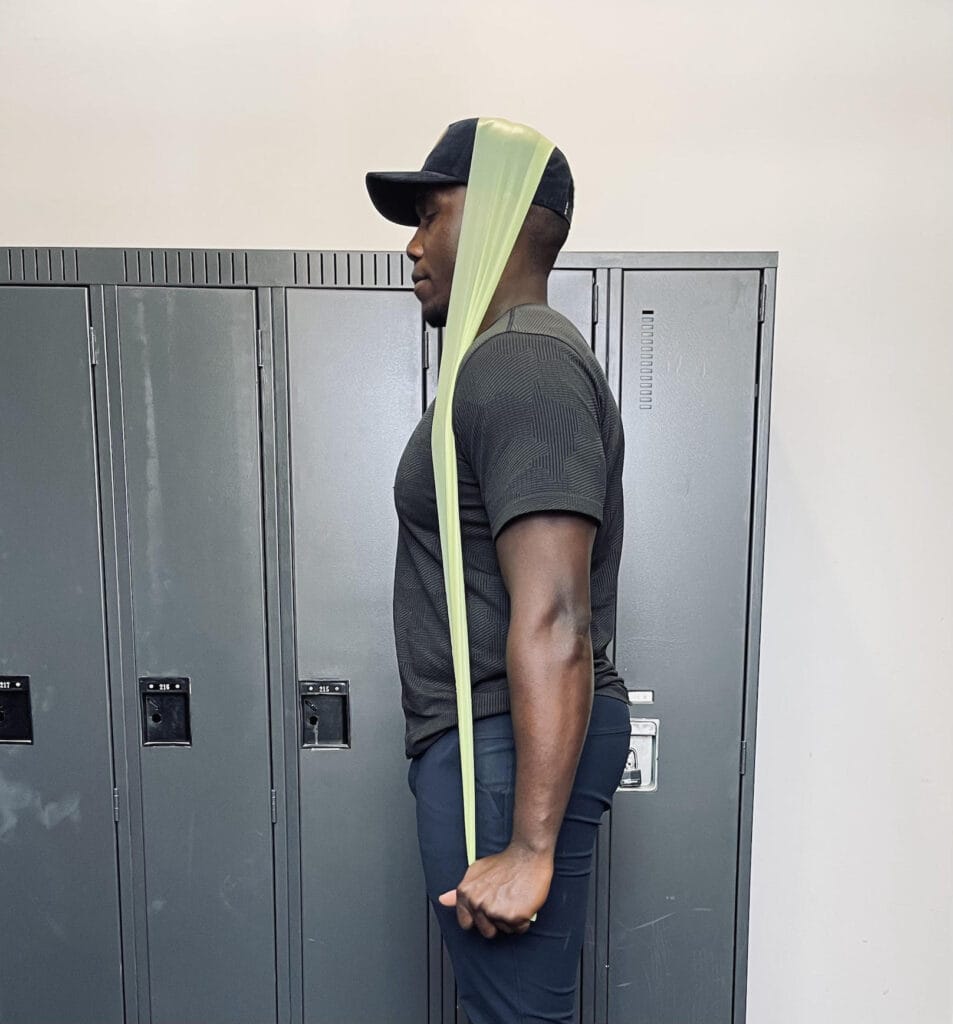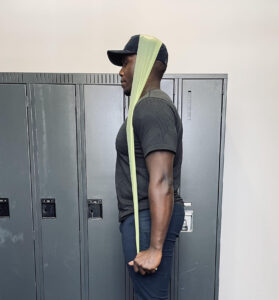 For more great exercises like these, please follow this link here and gain more wisdom on golf fitness.