golf nutrition
A 4+ hour round of golf is long;  too long to go without food or snacks!   But you want to make sure that you are fulling your body with the right foods so you can re energize for the rest of the round because let's be honest, a hot dog and chips might taste really good but its not going to benefit your body in a positive way.
Sometimes you need something quick and easy that you can grab and go with and not think too much about so that is why I have been loving the company RX Bar!  They make healthy bars and nut butters loaded with good fats, protein and small amounts of unrefined sugar in the form of dates!
My favourites from this company are the Maple Sea Salt bars & the Vanilla Almond Butter!
The best thing about these snacks are that they keep you full and satisfied.  I usually have these mid way through my rounds and they give me a little boost of energy and keeps me satisfied until I get off the course!
I would highly recommend giving these a try!
Hi Everyone!
As summer is approaching I know a lot of us are craving more fresh, light, healthy salads and I have the perfect recipe for you!  the best part about salads is that you can customize it to your liking without having to follow a specific recipe!  Have fun and don't take it too seriously!  Food is suppose to be fun!
For the Salad Base:
Spring Mix
Shallots (thinly sliced)
Cherry Tomatos
Olives (thinly sliced)
Goat Feta
Pecans
Shrimp:
Sauté your shrimp in your favourite seasonings until they turn a light pink colour.
Dressing:
1 tbsp of Extra Virgin Olive Oil
1 Lemon (freshly squeezed)
1 Garlic Clove
Hope you all enjoy!
Savannah
Hi!
Today I wanted to make a super easy breakfast/lunch that felt light and fresh and delicious!
Here is what you need:
1 Mini Cucumber
1/2 of an Avocado
5 Cherry Tomatoes
2 Eggs
1 Sausage
Lemon Juice
Salt & Pepper
Garlic Powder
Cube your veggies and mix with lemon juice, salt & pepper and garlic powder (set aside)
Cook your sausage, cube and mix with your avocado salad
Cook your eggs to your preference and enjoy!
Hope you all enjoy!
Savannah
This is my absolute FAVOURITE salad probably of all time! This meal is awesome before a round of golf or after you round.
This salad is so simple and packed full of flavour, but the key to this salad is making sure you massage the kale with the dressing… and yes I mean massage it with your hands!  This is the best way to soften up the kale and you get that yummy dressing in every bite, because who likes lettuce without dressing… NOT ME!
Here is how I make it:
2 cups of chopped up kale
3-4 spays of olive oil spray
1 freshly squeezed lemon
1 garlic clove
1 tsp of whole grain mustard
Salt + Pepper (DO NOT FORGET SALT AND PEPPER, it is a game changer in salads! Trust me!)
Once you have all these ingredients combined in a bowl it is time to start massaging it all!  Don't be shy, get in there!
You can now add whatever you want to this base!
I added some cherry tomatoes, avocado, and a honey garlic sausage!
Enjoy!!  For more healthy recipes like this follow link
Savannah
Hi everyone, Savannah here!
If any of you are like me and love to snack throughout the day but find it hard to find healthy nutritious snacks then this post is for you!  As a golfer who spends hours on the golf course, I need snacks that are easy to fit into my bag and that give me a little boots of energy when I need it half way through my round of golf.
I find it very difficult to find healthy and nutritious snacks that fit in with my WW program (Weight Watchers) so I have been on the hunt for some yummy snacks!  Now, you can of course go with simple fruits and vegetables for snacking throughout the day but that can get a little boring, right…?!
I found an online Canadian company that is kind of like an online grocery store but everything is health conscious!  It's like a one stop shop for everything healthy which is amazing!  It is called Natura Market and the fun part is you can customize your searches based on what kind of "diet" you are following or what your preferences are.
Here are some of the snacks that I found that we love and order on a continuous basis! A little bit of sweet and salty!
Siete has quickly become our most favourite brand for snacks, they use the best ingredients and you do not feel guilty after eating half a bag of little cookies or chips!  They also make amazing tortillas that are grain free; they makes cassava and almond flour tortillas and we would 10/10 recommend!
Hope you try these out and love them just as much as we do!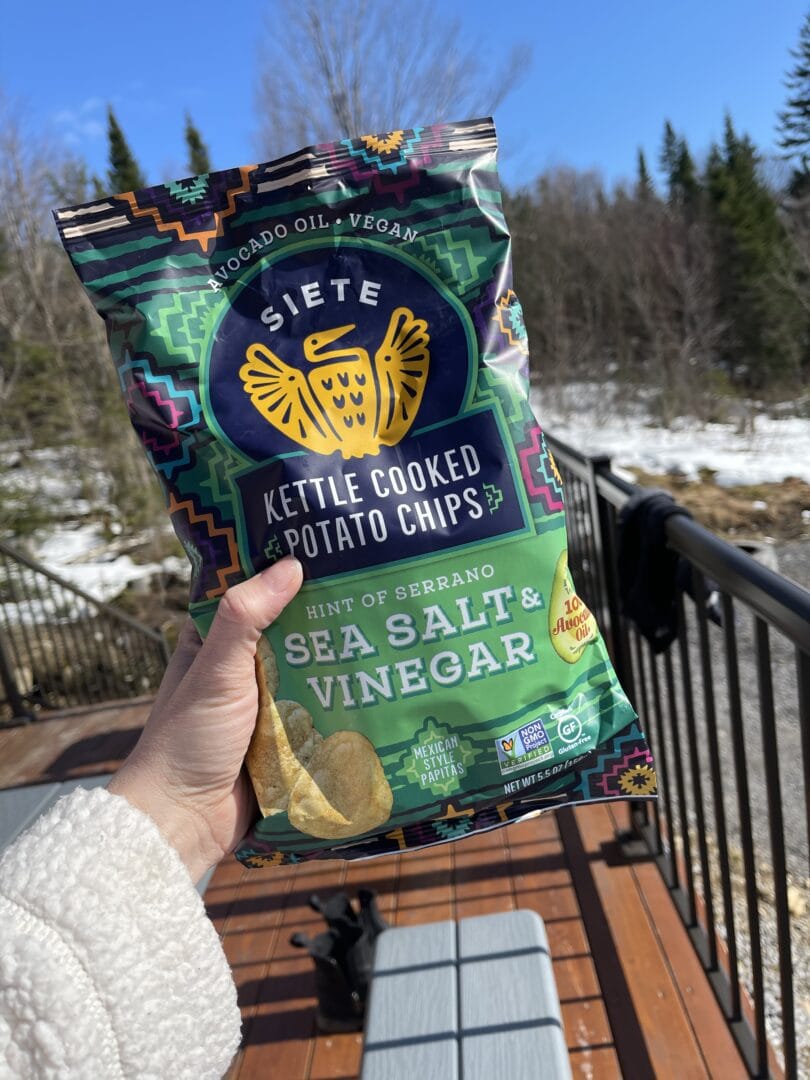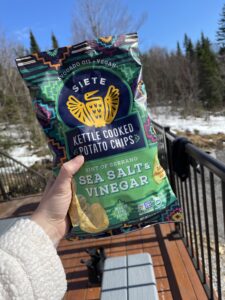 Hello Everyone!
This week we have an awesome recipe that can be done with the Traeger Smoker Grill which is THE BEST smoker for the best meals you will ever experience. This is a an amazing post round of golf recipe and will help refuel for the next day. This recipe was inspired by our love for spicy food and the love for Nandos (you have to try Nandos if you have not already). We used the Garlic PERI-PERI sauce to marinate the chicken breast;  the flavour of the smoke combined with the sauce married perfectly and made this one of the most memorable dinners we have ever had. So, we hope you try it out, this is a great one!
(These ingredients serve 5 people)
Ingredients:
1 cup: Garlic PERI-PERI sauce
6 chicken breast
2 1/2 cups of basmati rice
For the Stir Fry & Grilled Vegetables
3 whole Brown Onions
2 cups of Shiitake mushrooms
8 grams of Asparagus
2 cloves of Garlic
3 cups of Baby Corn
3 tbsp of olive oil
1tbsp of chilli flakes
Instruction:
Place the chicken breast in a bowl and add the Garlic PERI-PERI sauce.  Let them marinate for 30 minutes-1 hour.
Once ready, turn on your Traeger Grill and set the temperature to 350 F. Once the temperature is reached 350 F, go ahead and put on your chicken breast for 30 minutes. After the first 15 minutes flip the breast for even grill marks on the other side of the chicken.
In a tray, place the asparagus, baby corn; mix them with the olive oil, chilli flakes and the garlic. Once that is done place the tray in the Traeger Grill with chicken. This should take the same amount of time as the chicken (30 minutes.)
While the chicken breast is cooking you can start prepping the bisamti rice. Place the rice in a pot with 4 1/2 cups of water and bring the water to a boil at a high heat. Once the water starts to boil, turn down the heat to low and cover the pot to steam the rice. This should take 2o minutes.
Once the all the main dishes are complete serve accordingly and dig in!
I hope you enjoy recipe and if you wish to gain more great recipes such as this one, follow this link and enjoy!
I am sure most of you reading this have heard about the collagen craze that is going around in the health and wellness space because of how incredible of a supplement it is.  As we age, our bodies ability to produce its own collagen decreases, therefore it is important that we give our bodies a little boost to make sure that we are as healthy as we can be!  
Collagen is great for healthy joints, hair, skin, and nails!  I won't go into to much detail about the benefits since I am not a doctor or nutritionist but I can let you know what my experience has been while using collagen.  
I recently bought the Sproos Performance Multi-Collagen.  Sproos is a Canadian company (which I love because I am from Canada) with high quality, sustainable sourcing.  
The Performance Multi-Collagen has collagen types I, II and III which is a balanced blend of grass-fed bovine, wild-caught marine and cage-free chicken bone broth collagen.  This collagen is unflavoured and has no funky taste or smell to it which makes it ideal for mixing it into your coffee, tea, smoothies, water, or yogurt! I personally put a scoop into my fresh citrus and ginger water every morning and love it! 
As a high performance athlete it is important that I am giving my body everything that it needs to recover and perform at my best!  This is why the Sproos Performance Multi-Collagen is now a vital part of my everyday routine!